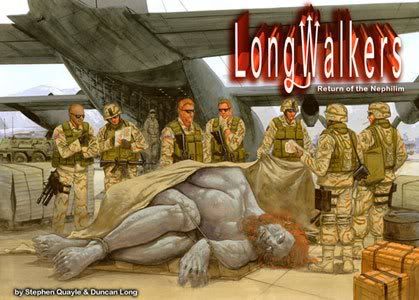 This picture is the cover of one of Steve Quayle's books called "
Long Walkers
".
The book is written as fiction
ONLY
to protect the names of the people involved that came forward.
The event is
REAL
.
Our soldiers encountered a living GIANT in an Affganistan cave.
It had six fingers per hand and six toes per foot.
It was extremely fast and extremely powerful.
The first crew that encountered it were killed and
EATEN
.
A special ops team was sent, and they killed it.
A pilot with a crew of 7 were sent to pick it up and ship it to a base in Germany.
This pilot tells of what he did and saw in the following link:
His testimony starts at about 3:30 in the video.
http://connect.in.com/news_article.p...6f706c61793d31
This is part 4 of the video series.
You have to scroll to the end of part 1 and then all the parts will show up.
So, do that, and click on part 4. You can then scroll to about 3:30 of part 4 when the pilot comes on the air and talks about it.